Print Media Academy
Kurfürsten-Anlage 52-60
69115 Heidelberg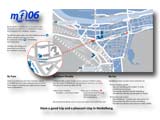 Heidelberg is centrally located in Germany and Europe and easy to reach by train, bus, shuttle, and car. The MFI'06 will be held at Print Media Academy, which is located directly across the street from the Heidelberg train station (see street plan above). The building is immediately seen upon leaving through the station's main doors.

Click the image to enlarge
(a new window will be opened)


Download Directions Sketch [pdf-file, 270 kb]

By Train
There is a connection (ICE) from Frankfurt airport to Heidelberg, which takes approximately one hour. Please keep in mind that you might have to change trains in Mannheim.
By Airport Shuttle (from Frankfurt Airport)
Lufthansa offers a daily shuttle service between Frankfurt airport and the center of Heidelberg. Operating hours are 8 a.m. to 10 p.m. The price of a round trip ticket is € 35.
Bus stop in Frankfurt:
Terminal 1, arrival area, Exit B4

Bus stop in Heidelberg:
Crowne Plaza Hotel Passage
Kurfürstenanlage 1-3
69115 Heidelberg
We recommend taking a taxi to reach your hotel or the conference site.
By Car
Heidelberg is best reached via the Bundesautobahn A5:
From Frankfurt (north): Take the Heidelberg exit number 37 at the Heidelberg Interchange. Then merge onto B37 towards Heidelberg. This takes you directly onto Bergheimer Strasse.

From Karlsruhe (south): Take Heidelberg / Schwetzingen exit number 38. Then merge onto B535 towards Heidelberg. This takes you directly onto Speyerer Straße (L600A).